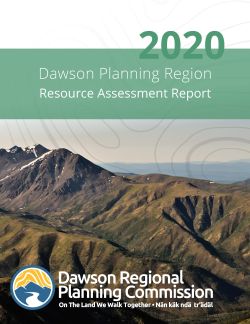 This edition of the RAR has been updated from the original 2013 version with the assistance of the Yukon Land Use Planning Council and technical staff from Yukon Government and Tr'ondëk Hwëch'in. The report has also been updated based on feedback we received from the public and planning partners in the fall of 2019 and winter of 2020. Thank you to those people and groups who took the time to submit comments to us! A special thanks goes out to Nicole Percival (Yukon Land Use Planning Council) whose work on this report was excellent.
This is a comprehensive report on the resources and values of the Dawson Region as of early 2020. We do not plan on updating this report. Any new information or reports will be included below separately. An archive of the 2013 version of this report is found here.
MAP SERIES: All maps are provided individually in high resolution, or compiled together in lower resolution.
APPENDIX A: Dawson Land Use Planning Mineral Potential Assessment (2019)
APPENDIX B: Dawson Forest Resources Management Plan (2013)
APPENDIX C: Tombstone Territorial Park Management Plan (2009)
APPENDIX D: We are Dënezhu. The People of this land (2019)