LMU 2: Horseshoe
Land Use Designation:

Integrated Stewardship Area 2

Land Status:

Tr'ondëk Hwëch'in Settlement Land R-49A

Area:

329 km2

Planning Region %

0.8%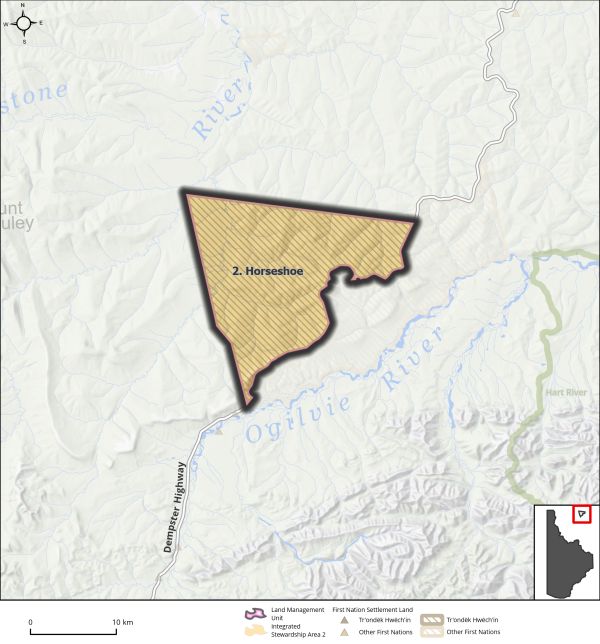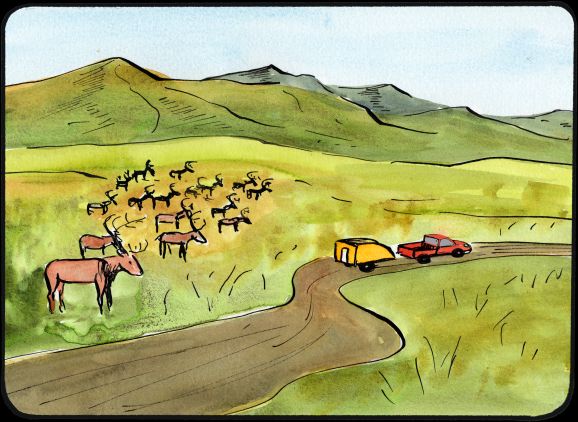 Walking on the Land Together (Intent Statement)
The vision for this area is to ensure habitat requirements for the Porcupine caribou herd are well understood and protected.
This area also offers important opportunities for First Nation subsistence hunting and harvesting along the Dempster Highway. The name of this LMU refers to the distinctive bend in the road or 'horseshoe', that serves as an identifier for people who harvest in the area. This LMU exists exclusively on Tr'ondëk Hwëch'in's Settlement Land parcel R-49A. North Yukon Planning Region LMU 9 surrounds the LMU to the North and East.
Future management of this area must preserve Tr'ondëk Hwëch'in's ability to sustainably develop their settlement land and ensure that the unique ecological value and cultural use of this area remains intact.
Tr'ëhudè (Our Way of Life) & Stewardship
The Hän word for caribou is wëdzey. This area is important for the Tr'ondëk Hwëch'in and their relationship with the Porcupine Caribou herd.
"The relationship between wëdzey and Tr'ondëk Hwëch'in extends back to a time without boundaries between people and wëdzey. The belief that people are wëdzey and wëdzey are people is literal. Tr'ondëk Hwëch'in have not only relied on wëdzey for survival, but wëdzey are also part of the community, with a shared history and kinship bonds."
(Tr'ondëk Hwëch'in Caribou (Wëdzey) Traditional Knowledge Summary, 2021)
Special Management Directions (Recommendations to achieve Vision)
In addition to all applicable General Management Directions, this area is subject to:
1.      The Parties should collaborate with the Porcupine Caribou Management Board to determine the availability and suitability of habitat within this LMU. If required, special management directions for any future development in this area should be developed as appropriate.
2.      Dempster Highway corridor sub-regional plan will affect this LMU and thus interim measures and future sub-regional planning direction in Section 5.4.3.1.1 – Dempster Highway Corridor (page 130) should be considered.
3.      Access:
a.      Coordinated access management off highway for potential oil and gas development in Eagle Plains basin (NYRP LMU-9 and DRPC LMU-2) should be considered.
Cumulative Effects Thresholds

Relative to LMU Size*

Surface Disturbance (%)

Linear Disturbance (km/km2)

Current disturbance (2020)

0.15

0.5

Precautionary

0.25

0.125

Cautionary

0.75

0.375

Critical

1

0.5

On the ground amounts**

Surface Disturbance (km2)

Linear Disturbance (km)

Current disturbance (2020)

0.5

164.5

Room under cautionary threshold***

2.0

0

Precautionary

0.8

41

Cautionary

2.5

123

Critical

3.3

164

*These are proportional to the size of the LMU, and correspond to table 3-2 of the Recommended Plan. They are measured in the % of the LMU that can be disturbed ("Surface Disturbance") and in km/km2 ("Linear Disturbance Density").

**These are amounts that can be measured and apply to the whole LMU and would be more familiar to project proponents and regulators. They are measured in km2 of disturbance and in km of linear disturbance (e.g., roads, trails and cutlines).

***How much more disturbance can be added to existing disturbance before the cautionary threshold is reached.
Priority Objectives

ü  Habitat and migration pathways are sufficient to support historic population levels. 

ü  Recognize and protect a way of life that is based on an economic and spiritual relationship between Tr'ondëk Hwëch'in and the land. (THFA preamble).

ü  Continued and successful traditional land use and traditional economic activities. 

ü  Preserve future opportunities/options for oil and gas development.

Rationale for Designation

·        This area has been identified as culturally important by Tr'ondëk Hwëch'in, and it supports subsistence use and traditional economic activities including trapping and harvesting.

·        Area contains some of the most significant harvesting habitat for Porcupine caribou user communities.

·        Within an identified sedimentary basin with identified potential for oil and natural gas resources. An ISA 2 designation allows for Tr'ondëk Hwëch'in to determine further direction for development in this area while preserving caribou habitat.

Ecological Integrity and Conservation Value

Birds

Habitat for migratory birds.

Caribou

Within the range of the Porcupine caribou herd and contains important habitat and critical migration routes for the herd.

Ecosystem Representation

Eagle Plains Ecoregion of Taiga Cordillera Ecozone.

Furbearers

Presence of low to no habitat suitability for muskrat, moderate potential for pond dwelling beaver habitat.

Grizzly Bear

Eagle Plains Ecoregion has approximately 9 bears per 1,000 km2.

Landscape Connectivity

 

Moose

 

Salmon and other Fish

 

Sheep

 

Species at Risk

 

Vegetation and Unique Features

 

Water

Part of the headwaters of the Porcupine River watershed.

Wetlands

 

Culture, Heritage Resources and Community Value

Community Value

Accessible off the Dempster for recreational activities.

Heritage Resources and Sites

Potential for undiscovered archaeological sites and infrastructure relates to historic First Nation harvest activities.

Traditional Economy / Traditional Uses

First Nation land-based connections to this area; very active harvest area (trapping, gathering, and harvesting), especially along the "horseshoe bend" along the Dempster Highway and adjacent lands.

Socio-economic Value

Agriculture

 

Energy

Within an identified sedimentary basin with identified potential for oil and natural gas resources, and some presence of exploration wells within the general area and presence of previous seismic lines. There is an active permit for oil and gas adjacent to the LMU.

Forestry

 

Mineral Resources

Moderately prospective mineral potential with medium to high confidence.

Outfitting and Trapping

Part of a group trapping concession and an outfitting concession.

Tourism

Adjacent to Dempster highway, an increasingly popular tourist driving route.

Transportation and Access

Accessible off the Dempster Highway and near an airstrip.