LMU 1: Tthetäwndëk (Tatonduk)
Land Use Designation:

Special Management Area

Land Status:

Non-Settlement Land and Tr'ondëk Hwëch'in Settlement Land TH R-48A, TH R-4A, TH R-5A, TH R-76A, TH R-77B, TH S-133B1, TH S-134B1, TH S-6B1

Area:

7959 km2

Planning Region %

20%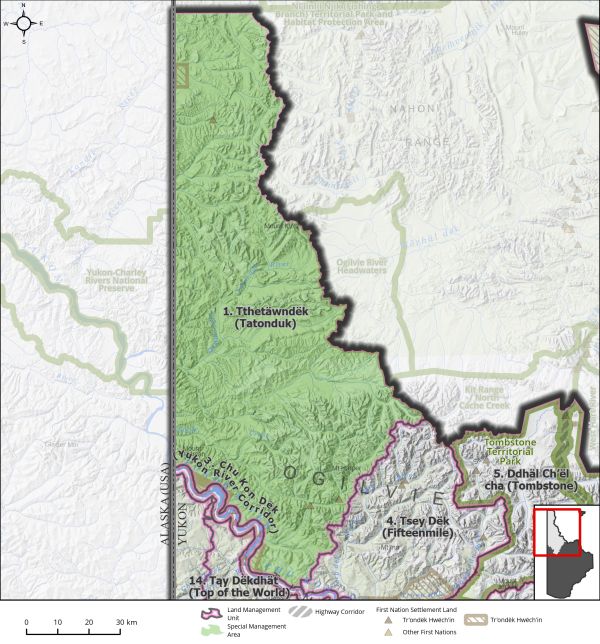 Walking on the Land Together (Intent Statement)

The vision for this area is to focus on conservation with limited use.

This area contains some of the most undisturbed and wilderness landscapes of the planning region, and it is rich in intact ecosystems and Tr'ondëk Hwëch'in history. Existing access infrastructure is limited, as is mineral exploration and development. The area contains an active outfitting concession, traplines and associated infrastructure. The conservation priorities for this LMU are rooted in stewardship, landscape connectivity, ecosystem representation, Tr'ondëk Hwëch'in and affected First Nations' cultural values, and wildlife habitat.

Future management of this area should maintain its wilderness character, emphasize its landscape connectivity with adjacent regions, and provide opportunities for cultural connectivity. Access, and continued exploration activities should be carefully planned and monitored in relation to existing mineral claims.

Tr'ëhudè (Our Way of Life) & Stewardship

The area has long been used by Tr'ondëk Hwëch'in ancestors as a travel route and Elders have shared that this is a place of importance for wildlife. The protection of this land is essential to honor the past and provide opportunities for cultural continuity and the passing down of traditional knowledge and opportunity to youth and future generations. It is a place of healing:

"We will go back to these lands, it's who we are, that is our story." 

Debbie Nagano, DRPC Chair

"I flew up there and I was in awe. I could picture the old trail where people used to travel from Blackstone to Moosehide. I got so excited when I saw the Tthetäwndëk"

Angie Joesph-Rear, DRPC Member

The name Tthetäwndëk is known to mean "Broken Stone River".

Special Management Directions (Recommendations to achieve Vision)

In addition to all applicable General Management Directions, this area is subject to:

1.      Mineral development permitted within existing mineral tenure.

2.      Industrial land use permitted within ISA 1 cumulative effects thresholds.

3.      Withdrawal of all other lands from quartz and placer mineral staking and oil and gas dispositions.

4.      If existing mineral claims are proven viable by a proponent, the Parties shall jointly consider permitting new surface access and access route

5.      Activities on existing mineral tenure that overlap with sheep habitat must consider and mitigate potential impacts to sheep habitat. Specifically, timing windows may apply in winter habitat and lambing areas.

6.      Limitations to air landings may be required to reduce impacts to key wildlife values.

7.      This area is not to be promoted as a tourism destination, as extensive use may have a negative impact on sensitive wilderness values.

Cumulative Effects Thresholds

Relative to LMU Size*

Surface Disturbance (%)

Linear Disturbance (km/km2)

Current disturbance (2020)

0

0.02

Precautionary

0.0625

0.0625

Cautionary

0.1875

0.1875

Critical

0.25

0.25

On the ground amounts**

Surface Disturbance (km2)

Linear Disturbance (km)

Current disturbance (2020)

0

159

Room under cautionary threshold***

1492

1333

Precautionary

497

497

Cautionary

1492

1492

Critical

1990

1990

*These are proportional to the size of the LMU, and correspond to table 3-2 of the Recommended Plan. They are measured in the % of the LMU that can be disturbed ("Surface Disturbance") and in km/km2 ("Linear Disturbance Density").

**These are amounts that can be measured and apply to the whole LMU and would be more familiar to project proponents and regulators. They are measured in km2 of disturbance and in km of linear disturbance (e.g., roads, trails and cutlines) .

***How much more disturbance can be added to existing disturbance before the cautionary threshold is reached.

Priority Objectives

ü  Connectivity between areas of key wildlife habitat, while considering climate driven shifts in habitat. (Plan Goal)

ü  Preserve ecologically representative areas and important ecosystem services. (Plan Goal)

ü  Resilience of species at risk and rare endemic species.

ü  Preservation of critical, rare, or unique ecosystems while considering that some ecosystems are likely to shift due to climate change.

ü  Sustainable fish and wildlife populations supported by healthy aquatic and terrestrial habitats.

Rationale for Designation

·        Biodiversity-rich area containing endemic meadow habitats, species of conservation concern, and the Tatonduk River Watershed, which is an ecologically intact area with permanent freshwater springs.

·        Area contains underrepresented or absent ecoregions within Yukon's protected areas: the North Ogilvie Mountains and the McQuesten Highlands.

·        Area overlaps with three caribou herd ranges and extensive habitat for sheep. Both caribou and sheep are species of cultural, ecological, and economic importance in Yukon.

·        Area contains important waterways that provide for salmon habitat.

·        Establishing a Special Management Area will protect landscape connectivity between Yukon-Charley National Preserve in Alaska, Kit Range/North Cache Creek and Ogilvie River headwaters in Peel River Watershed, and Fishing Branch Ni'iinlii Njik Territorial Park.

·        Area contains traditional trails, routes, and sites, as well as high cultural importance and use for Tr'ondëk Hwëch'in. The area is critical for cultural continuity and maintaining cultural ties to the land for Tr'ondëk Hwëch'in citizens.

·        Some existing mineral exploration and critical mineral potential.

·        Surface access infrastructure is currently limited.
Ecological Integrity and Conservation Value

Birds

High value waterbird habitat in riparian areas, key nesting habitat for raptors. Much of the area consists of high elevation (>1000 m) habitat crucial for migratory bird specialist species. Contains the Tintina Trench Flyway, a major migration corridor and contains stop over sites used by migratory birds during migration.

Caribou

Fortymile Caribou Herd: Historic summer range, fall/spring migration and winter habitat. Porcupine Caribou Herd: Fall/spring migration and winter habitat. Hart River Herd: Important habitat (Map 5 Ungulates). Updated Caribou range mapping will be available Spring 2022.

Ecosystem Representation

Part of North Yukon Ogilvie Mountains Ecoregion which is currently underrepresented in the protected areas system for Yukon. Ogilvie Mountains have also been identified as one of three Yukon hotspots for nationally endemic species. Area also a small portion of the McQuesten Highlands, which is not currently included within Yukon's protected areas.

Furbearers

 

Grizzly Bear

Contains high quality habitat for grizzly bears.

Landscape Connectivity

West: Yukon-Charley National Preserve in Alaska; East: Kit Range / North Cache Creek and Ogilvie River Headquarters in Peel River Watershed; North: Fishing Branch Ni'iinlii Njik Territorial Park in North Yukon Planning Region; South-East: Chandindu (Tthen Dëk) Dawson Planning Region.

Moose

Year-round including some key wildlife areas for moose in late winter along major watercourses (Tatonduk River, Eagle Creek, Miner Creek).

Salmon and other Fish

Important habitat for salmon migration/spawning and freshwater fish. Coal Creek provides for chinook salmon spawning habitat.

Sheep

Extensive year-round Dall (thinhorn) sheep habitat coverage within the entire area (Map 5 – Ungulates).

Species at Risk

Presence of Yukon Podistera (SARA Special Concern), Yukon Wild Buckwheat (SARA Special Concern), Murray's Draba (COSEWIC assessment candidate), and Peregrine Falcon (SARA Special Concern).

Vegetation and Unique Features

Contains endemic/rare species, and intact forests (>140 years old), and several known mineral licks. Also includes Mount Klotz, which contains unique assemblages of plants and insects.

Water

Several important and undeveloped watercourses. Presence of freshwater springs.

Wetlands

Available wetland mapping indicates considerable wetland coverage within much of the area lowlands, including bogs, fens, and marshes, which provide for important wildlife habitat and ecosystem services.

Culture, Heritage Resources and Community Value

Community Value

Limited recreational hiking opportunities, fly-in access only. Intrinsic value of landscape and providing remote wilderness habitat for sensitive species.

Heritage Resources and Sites

Traditional trails and travel between important cultural areas (identified routes along Tatonduk River, Eagle Creek, Mount Klotz, and the Yukon River), Several Tr'ondëk Hwëch'in Settlement Land Parcels chosen for their traditional and cultural significance. Identified heritage resources in addition to a high likelihood of undocumented archeological sites throughout the LMU.

Traditional Economy / Traditional Uses

Important area for harvesting and gathering, especially in areas with high ecological integrity. Important for maintaining cultural ties to the land for Tr'ondëk Hwëch'in citizens, including engaging youth, and upholding stewardship duties.

Socio-economic Value

Agriculture

 

Energy

Contains portions of two sedimentary basins with identified potential for oil and natural gas resources: Eagle Plains and Kandik Basins. Northern boundary is adjacent to North Yukon Land Use Plan LMU 13 Kandik River with moderate potential for oil and gas development and moderate to high mineral resources potential and LMU 12 Ni'iinlii'njik (Fishing Branch) SMA (North Yukon Land Use Plan, 2009).

Forestry

Overlaps with the Yukon River North and Tatunduk Landscape Units of the Dawson Forest Resources Management Plan. Both units are designated for high to higher conservation focus with low potential for forestry activities.

Mineral Resources

Active quartz claims present. Mineral potential ranges from highly prospective, through significantly prospective to moderately prospective (Map 8 Non-Renewable Economic Development: Potential and Interests). Area contains Critical Mineral Occurrences as per Yukon Geological Survey.

Outfitting and Trapping

Area contains an active outfitting concession and trapping with associated infrastructure.

Tourism

Limited activities and limited access. Mount Klotz identified as a high value hiking area.

Transportation and Access

No major access roads or trails into the area, some airstrips. Mineral exploration is currently conducted by air access.