LMU 17: Nän Dhòhdäl (Upper Indian River Wetlands)
Land Use Designation:

Integrated Stewardship Area 2

Land Status:

Non-Settlement Land

Area:

485 km2

Planning Region %

1.2%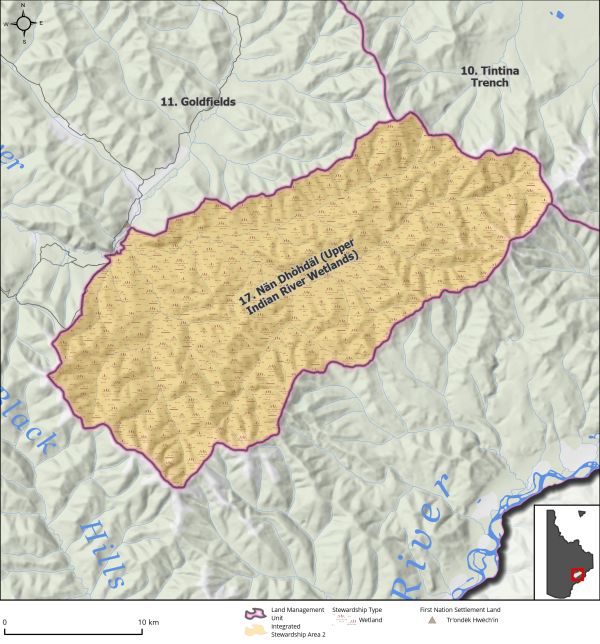 Walking on the Land Together (Intent Statement)

The intent for this area is to limit the scale of development within the upper drainage of the Indian River and to protect the function of much of the upper Indian River wetland complex to respect and protect cultural, ecological, and traditional economic values. Recognizing that some mineral development may still occur, it will be held to a high standard of excellence, guided by limits to surface and wetland disturbance, a higher standard of progressive reclamation practices, and community stewardship in partnership with industry organisations and individuals.

The Indian River valley is experiencing a conversion of its wetland landscape and widespread loss of peatlands. The upper drainage of the Indian River continues to experience exploration and mining; it remains relatively less developed.

The goal of limiting cumulative effects is to maintain the area in a state that it can continue to be utilized by Tr'ondëk Hwëch'in and other First Nation citizens to exercise their rights, and for all community members to utilize the area for enjoyment and licensed harvesting. This can be achieved by slowing the pace and scale of development in this area and focusing on a high standard of reclamation. There is an opportunity here to learn from the past and create a new way of doing things, a way that is more respectful to environmental and cultural values and reflects sustainable development in a meaningful way.

Tr'ëhudè (Our Way of Life) & Stewardship

The Indian River area is an incredibly important place for Tr'ondëk Hwëch'in citizens and this has been demonstrated by the ongoing and growing concern that was expressed throughout the planning process.

"The Indian River Valley that exists today is much different from the broad, sweeping wetland habitat it used to be. With the increase in activity levels and lack of reclamation and destroyed habitat, I don't feel as comfortable with harvesting down there anymore. I don't even want to drive down there for leisure…I find it depressing, because I see a loss from all the change, including the loss of my ability to have a successful harvest…The land provides, and we obviously rely on it."

Darren Taylor, Tr'ondëk Hwëch'in Citizen, Public Interest Hearing on Placer Mining in Wetlands (Government of Yukon, 2021)

Special Management Directions (Recommendations to achieve Vision)

In addition to all applicable General Management Directions, this area is subject to:

1.      Wetland Stewardship Overlay area (see Section 3.2.4.2 – Wetland Stewardship Area, page 44).

2.      Industrial Land Use:

a.      Mineral development is permitted within existing mineral tenure.

b.     Industrial land use is permitted within ISA 2 cumulative effects thresholds.

3.      Development within undisturbed wetlands is subject to the following:

a.      No disturbance to field-verified marshes and bogs.

b.     Development in undisturbed fens is limited to (50 percent) by claim block or permit area as per wetland fen threshold direction in Section 5.2.5 – Wetlands (page 96).

c.      Development of wetlands subject to general management directions.

4.      When a claim expires, it should be withdrawn from further staking while the interim withdrawal is in place.

5.      Interim withdrawal of all lands from placer and quartz staking. Withdrawal can be jointly reassessed by the Parties upon completion of an Upper Indian River Stewardship Plan (see below), or at the time of 10-year Plan Review, or until such a time that both Parties agree to remove.

6.      Priority is given to this LMU for the development of socio-cultural indicators as a part of the cumulative effects framework led by Tr'ondëk Hwëch'in due to the cultural importance of this area.

Upper Indian River Stewardship Plan

An Upper Indian River Stewardship Plan must be jointly created by the Parties and should consider the following:

1.      Stewardship as understood and practiced by Tr'ondëk Hwëch'in, and community stewardship as understood by the broader community should guide the development of this Plan.

2.      When new access is required, coordinated access routes for industrial activities should be encouraged to reduce linear feature footprint.

3.      Traditional knowledge should inform and guide the development of the management plan.

4.      Opportunities for partnerships and collaborations (industry partners, traditional knowledge holders, academic institutions, and environmental non-governmental organizations, etc.) where possible recognizing the expertise and on the ground experience that partners can bring to the body of knowledge surrounding new mining techniques, experiences from outside jurisdictions, monitoring and inspection, and wetland reclamation.

5.      Consider opportunities for innovation (techniques/technology) in post-mining reclamation. Explore opportunities with the aforementioned collaborations to further research and techniques in restoration of wetlands in northern ecosystems (including peatland restoration). 

6.      Parties to jointly develop reclamation guidance and standards for placer operators.

Cumulative Effects Thresholds

Relative to LMU Size*

Surface Disturbance (%)

Linear Disturbance (km/km2)

Current disturbance (2020)

0.25

0.48

Precautionary

0.25

0.125

Cautionary

0.75

0.375

Critical

1

0.5

On the ground amounts**

Surface Disturbance (km2)

Linear Disturbance (km)

Current disturbance (2020)

1.2

232.8

Room under cautionary threshold***

2.4

0

Precautionary

1.2

61

Cautionary

3.6

182

Critical

4.9

243

*These are proportional to the size of the LMU, and correspond to table 3-2 of the Recommended Plan. They are measured in the % of the LMU that can be disturbed ("Surface Disturbance") and in km/km2 ("Linear Disturbance Density").

**These are amounts that can be measured and apply to the whole LMU and would be more familiar to project proponents and regulators. They are measured in km2 of disturbance and in km of linear disturbance (e.g., roads, trails and cutlines).

***How much more disturbance can be added to existing disturbance before the cautionary threshold is reached.

 
 
 
 
 
Priority Objectives

ü  Functioning wetlands ecosystems that support ecological and socio-cultural values.

ü  First Nation constitutionally protected rights for harvesting and subsistence activities are upheld.

ü  Recognize and protect a way of life that is based on an economic and spiritual relationship between Tr'ondëk Hwëch'in and the land (THFA preamble).

ü  A broad understanding by land and resource users of different concepts of stewardship.

ü  Placer and quartz mine exploration and development are carried out in a sustainable way and contribute to a growing diversified economy.

Rationale for Designation

·        Wetlands are relatively rare in the Dawson Planning Region covering approximately 10 percent of the landscape.

·        Wetlands provide specialized habitat for wildlife (including terrestrial animals, numerous species of birds, and aquatic species), provide important ecosystem services, and are one of the most significant terrestrial carbon sinks.

·        Wetlands offer numerous socio-cultural values, as expressed by Tr'ondëk Hwëch'in, in inherent value on the landscape, harvesting opportunities, preservation of social connections and cultural vitality, and stewardship.

·        Restoration of bog/fen wetland habitat is currently, effectively impossible following disturbance. 

·        The Indian River watershed has been identified as the most important placer gold producing watershed in Yukon and the upper reaches have been identified as high potential for future placer activity.

Ecological Integrity and Conservation Value

Birds

Wetlands are important staging and nesting habitat for songbirds and waterfowl and sharp-tailed grouse habitat.

Caribou

Overlaps with the Fortymile Caribou Herd range. Migration routes and winter habitat present on Wounded Moose Dome to Australia Mountain.

Ecosystem Representation

Wetlands represent roughly 10 percent of the Planning Region.

Furbearers

Wetlands offer important habitat for beaver and muskrat.

Grizzly Bear

 

Landscape Connectivity

Wetlands are often considered at the wetland complex level given the nature of their interconnectedness and cumulative function. Isolated wetland habitat is less productive.

Moose

Area contains favourable year-round habitat for moose, and overlaps with wildlife key areas for moose for late winter (February to April).

Salmon and other Fish

 

Sheep

 

Species at Risk

Wetland habitat may provide habitat for common species at risk found in the Planning Region.

Vegetation and Unique Features

 

Water

Wetlands are an important hydrological feature.

Wetlands

Upper Indian River drainage majorly consists of swamp, fen, and bog wetland habitat.

Culture, Heritage Resources and Community Value

Community Value

Limited use for recreational purposes, likely focused on those living seasonally within the area.

Heritage Resources and Sites

Numerous occurrences of recorded historic resources, archaeological, and paleontological sites.

Traditional Economy / Traditional Uses

Opportunities for harvesting, gathering of foods and medicines and trapping areas.
Socio-economic Value

Agriculture

 

Energy

 

Forestry

Located within the Goldfields Landscape Unit of Forest Resource Management Plan with a timber harvesting plan for the area.

Mineral Resources

The Indian River watershed has been identified as the most important placer gold producing watershed in Yukon and more than 50 percent of the Yukon's placer gold is derived from the watershed every year. Extensive coverage of active placer claims and permits overlapping with wetland habitat within upper Indian river drainage along major existing or prospective areas including Wounded Moose, Melba Creek, and Australia Creek. Secondary tributaries are relatively absent of placer activity but highly prospective. Some quartz claims and active permits are directly adjacent to the area.

Outfitting and Trapping

Single trapping concession and potential for presence of associated trapping infrastructure.

Tourism

Accessible via secondary roads, may see limited tourism opportunities through gold mining interest and/or wildlife viewing.

Transportation and Access

Access into upper drainage exists but is limited to secondary mining roads.